Planning
---
For more information please contact us at:
E-Mail: info@cowwasher.com
Cowwasher Co.
PO Box 113
Oracle, AZ 85623

Telephone: 916-608-1744
US Only: 800-645-7458
---




copyright © 2021
Last modified May 31, 2021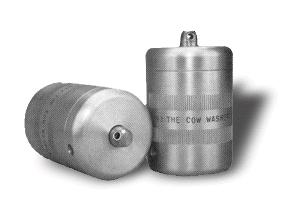 Cow Washer tm
Cuts Costs in 5 Ways!

If you are to prosper in the years ahead you will need to be cost conscious, quality concious and technologically nimble. That's why it is important to use precision crafted Cow Washer wash heads in the wash pen.

And They
Clean Better!


Cow Washer handles the worst caked-on mud, leaves cows cleaner, requiring less preperation time to help increase your bottom line.

Consider these advantages:
Cuts water use.

Saves up to 2 gallons per minute, 1000's of gallons per day, compared to other sprinklers.

Cuts wash time.

Nozzle design and rotation speed permit cleaning in 20% to 50% less time.

Reduces injuries

No guards needed. Small, round profile can't catch on cow's legs or udder.

Cuts maintenance

Can be serviced in seconds from the top, without removal from the riser. Machined parts withstand abuse, can't rust or corrode.

Reduces cow stress

Gentle fan spray of large droplets - never a hard stream - keeps cows stress-free and receptive.
Complete guidelines from dairy parlor procedures to the planning and installation of your new COW WASHER system are available within this site. All State and Federal regulation questions should be directed to your local farm agent or the USDA.
Copyright © 2021
Questions about this site: info@cowwasher.com

.......................................................................