Installation
Cow Washer Installation Instructions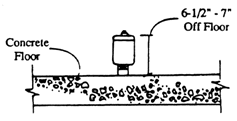 Inspect the condition of the threads on the riser. Repair and clean threads if necessary.
It is important that the Cow Washer be set at the proper height in the wash pen for the most effective washing of the udders.
The Cow Washer must be installed so that the top of the Cow Washer is a minimum of 6 1/2" - 7" off the concrete floor as shown in the illustration above: Higher than 7" is O.K.
Purge the water lines to remove any foreign items that may have become lodged in the risers.
Prepare the threads on the riser with a high quality thread sealer (teflon tape or paste) following manufactures instructions.
Screw your new Cow Washer head on hand tight. The knurled bands around the Cow Washer provide a gripping surface for hand tightening. Use a spanner wrench in the lower hole in the body to finish tightening the Cow Washer.
DO NOT USE THE TOP HOLE IN THE LID TO TIGHTEN THE COW WASHER. DO NOT USE A PIPE WRENCH, SLIP JOINT PLIERS, OR SIMILAR TOOLS, AS THEY WILL SCAR THE OUTSIDE WALLS OF THE COW WASHER AND VOID THE WARRANTY.
When installing border (180 degrees) or corner (90 degrees) Cow Washers, follow the steps above, only tighten to align the water stream using the proper spanner wrench in the bottom of the Cow Washer.
DO NOT USE THE TOP HOLE IN THE CAP TO TIGHTEN THE COW WASHER OR YOU MAY VOID THE WARRANTY.
During operation, particularly during the first hours of break-in time, variable rotation speeds may be noticed. This is not unuasual and favorable results will occur each and every use.
Copyright © 2021




.......................................................................